Hi Guys and gals,
I'm fairly new to the Fiesta club, recently treating myself to a 09 Zetec S. I've done a few bits and pieces to it, such as carbon DMB's, door sills, and now the Boomerang arm rest. Hopefully soon I'll also have Bluetooth retro fitted and possibly an asian grill and vinyl wrapping. Here's the suspect as I got her: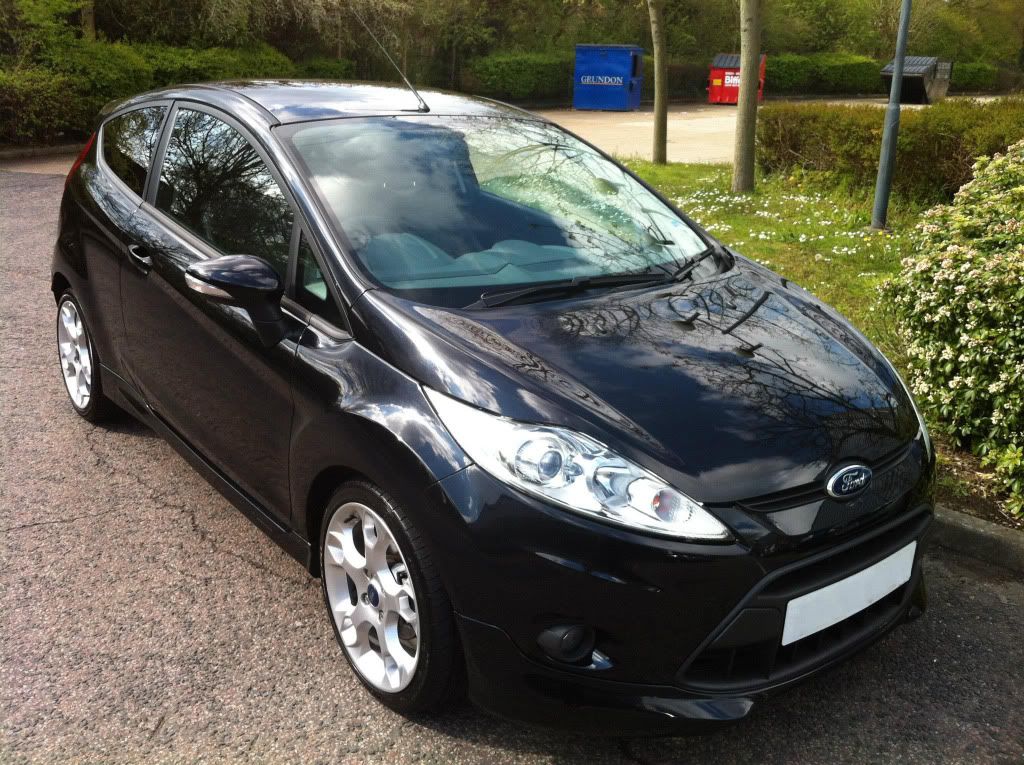 The first thing I got next are the door sills/kick plates. These were about £30 from Amazon - I absolutely think everybody should go for these. Very easy to install, and really give it a classy look. Very cheap to boot!
After these I went for the carbon DMB badges. I really like these, but I think I should have gone for black and chrome. They are nice quality, but where the carbon is has an effect on the writting and from close up looks a little tacky. However from a distance I think they look ace. I've done the wheels, front back and steering wheel - £30 in total. Here's a pic incase anyone is thinking of getting these (excuse the filth her!):
Last but not least, the Boomerang armrest. To be honest I'm not sure about this, and may actually sell it.
This cost £100 of eBay and I really can't decide if I like it. I don't think the quality of the armrest lives up to the price, installing it was mostly easy, but at the end there is a bit of agro trying to get the top of the centre console back in place.
I find that when driving, for me at least, it feels just a tad to high and have to purch on the end of it to get at the gear leaver and even then it hinders the control of it, if you have a short throw gear leaver I think you should probably forget this.
Also it pretty much completely stops you from using the handbrake, it's fine if you're just stopping and starting your journey, but when you're in traffic, and you want to put the handbrake on firmly, it's a real pain! Also if you move the armrest up out the way of it, when you come to put the armrest back down again once you're moving, it can be a bit awkward.
However, it is perfect for motor way driving. It is the perfect hight and position for you to rest your left arm on for steering - very comfy indeed.
Here's a picture of it fitted, you can also see my filthy rubber mats. I can get a few more pictures if anyone is interested in getting one of these:
I have plenty more idea's for this, as mentioned earlier, after having a coutesy 2012 Fez for a week, I am dying to get Bluetooth retrofitted!
Here's the idea I have for vinyl wrapping, very quickly Photoshoped:
Thanks!
Dan