update on the Calipers and painting.
Gforce has been very helpful in the sourcing of a foliatec rosso red caliper paint kit from halfords but when reserved at his local store; halfords phoned to say its no longer in stock,
I too made the trip to halfords in waterford today having searched halfords website for a store with the kit in stock I made the 2hr trip with my reservation number in hand, only to be told "computer says no"
Its not reserved and wasn't in stock at time of reservation yesterday, so I had to improvise and purchase some halfords kid instead because halfords no longer stock foliatec caliper painting kit.
Here is what I purchased instead of the foliatec kit:
Halfords Brake Caliper Paint (Red)....15.99euro
Halfords Paint Preperation Wipes......03.29euro
Halfords Brake Caliper Cleaner..........13.99euro
Harris Paint brushes...........................05.29euro
Unibond Masking Tape.......................03.75euro
Halfords were asking silly money for paint brush and masking tape so I diverted to Woodies Diy store for those items, saved 5 euro still spent more than I was expecting to just to get some colour on the calipers, but reading the tin of caliper paint it says to use the caliper cleaner and preperation wipes,
Had the foliatec kit been available would have been half the price for the kit that includes caliper cleaner.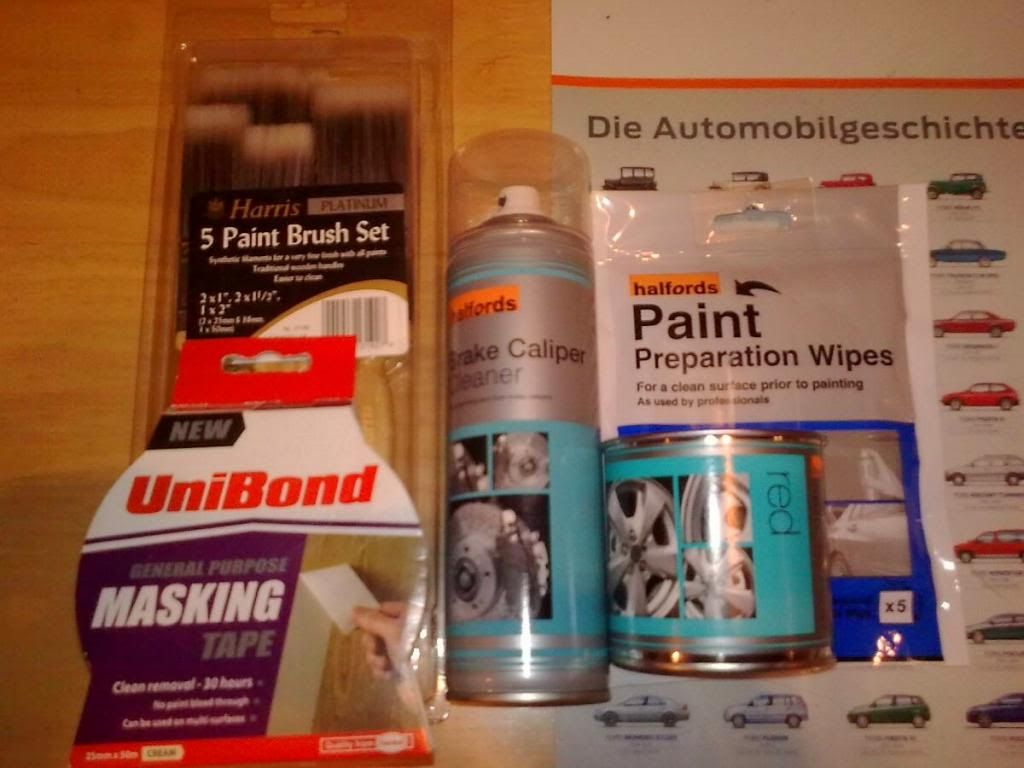 All I need now is the weather, although I now believe good weather is easier to find than a foliatec caliper paint kit in ireland lol
Hopfully the halfords red is a nice shade because their isint any colour decal on the lid, just says red.