Show
Dashboard Compartment
Started by
Alec J
,
Feb 13 2013 08:54 PM
Posted 15 February 2013 - 12:40 PM
I started over by the drivers side as it all comes out in one big piece of plastic.

---
Have something to contribute?
Sign in or register to start a topic...
Posted 10 October 2013 - 07:44 AM
I know its a bit late but just in case some one else needs it... Its easy enough to pull the whole section off using thin pieces of plastic or a plastic trim remove tool (http://www.ebay.co.u...=item485b13dc8a). On mine one of the hinges was broken (fix with super glue) and the clip was also broken. I replaced this with a push-to-open bin clip (http://www.ebay.co.u...984.m1439.l2649) Just sand off the remaining of the clip, put the receiving end inside the compartment, right behind the original receiving bit and fasten it with a bit of super glue. Then insert the clip and remove the spring and adjust the clip (sandiong or adding pieces of plastic) until the lid closes nicely but you can still click the push to open mechanism by pushing the lid down. Then just super glue the clip to the lid.
---
Posted 10 October 2013 - 08:35 AM
This is a good suggestion mate, the type of thing I'm thinkin of at the minute actually! The catch on mine has broken recently, and I was gonna use it as an excuse to fit an ST boost gauge pod, but that might not be an option now as I can't seem to source the plastic base that the pod clips into. (See my thread here... http://www.fordowner...itting-query/ )
At the minute I have just removed the spring so at least the lid sits closed, but I would like a proper fix. Your suggestion of this type of clip would be a much cheaper option than ordering a new lid from Ford, so it's good to have the link for a clip that works!
Is there any chance you could post up a picture of your finished handy-work, just so I can get a clear idea of exactly where and how you've mounted it? Would be much appreciated, cheers.
---
Posted 10 October 2013 - 09:00 AM
Hey, I was so happy with it after done that I put it on the car immediately without taking a pic but being overexcited as I was, I forgot the end piece of the metal rod so will have to remove it again some time this week. Will take a picture for you then. 
---
Posted 10 October 2013 - 09:27 AM
That's brilliant mate, would be much appreciated.
Totally know the feeling about forgetting to pics, I'm the worst for it when doing mods and that...always intend to take pics as I go along which may be of help to others but kinda end up gettin carried away then! When things seem to be workin out ya don't want to stop!
Can I just confirm that it was both parts of the clip that you replaced by the way (so I can go ahead and order one), both the receiving 'catch' part that sits in the pocket, and the 'striker' pin which attaches to the lid?
---
Posted 10 October 2013 - 09:30 AM
Yes, in my case I needed both ends.
---
Posted 10 October 2013 - 09:49 AM
Thanks, I think I just need the striker pin, as the flat part at the bottom has broken off mine, so is just a straight thin piece of plastic now and won't catch on the receiving end. Think I'll order both parts anyway and replace the whole thing to ensure proper fitment.
Thanks again, look forward to seeing your pics!
---
Posted 11 October 2013 - 08:59 PM
Hey here are the pics of the finished worked. It all took less that an hour so a simple job really!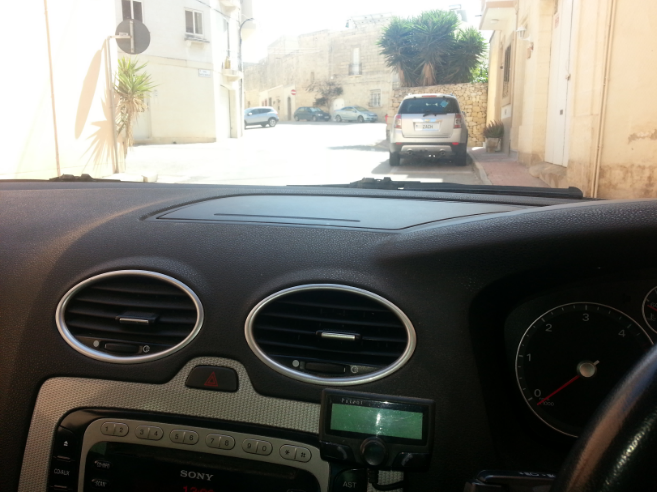 Let me know if you need any more help
---
Posted 12 October 2013 - 07:29 PM
best way to get it out is to remove a center air vent , you can then get your hand in to push the clips up from below , and like above said , use something like tyre levers for the sectio over the instrument cluster.
---
Posted 12 October 2013 - 07:45 PM
Thanks. I actually found that it came quite easily just by gently pulling it with the plastic trim remover.

---
Posted 17 July 2014 - 11:49 AM
Does anyone know the part number for this lid and compartment. Mine has been glued down and want to replace it.
Thanks
---
Posted 17 July 2014 - 12:50 PM
dont know the part number but i have seen them on ebay for about £20
i modified mine so that the lid would open more and i fitted 12v charging points
mine can house a sat nav or a media player - hold in place by velcro!!!
---
Posted 17 July 2014 - 02:31 PM
Mad85's solution seems a neat fix.
These are the two parts that get broken by handed use :-
but you'll probably not like the prices.
If the recessed catch is okay and you feel like crafting a replacment hook for the lid it's this shape (excuse the crude ascii art)
=======
   ||
   ===
---
Posted 17 July 2014 - 02:42 PM
just to confirm, the bin clip still works fine but the hinge repair work recently gave in and will have to repair it again... I think the problem is that I have to leave it parked for 8 hours a day under the sun and the glue does not appreciate that... damn heat!! Anyway, not gonna pay that sort of money for this cheaply made lid. Understand completly whoever decided to just glue it in and forget about it lol
---
Have something to contribute?
Sign in or register to start a topic...
---
Not what you're looking for?
Register now, we have a huge community of enthusiasts to answer any questions you might have
0 user(s) are reading this topic
0 members, 0 guests, 0 anonymous users