Update:
Dpf internal removal with remap will take place on Friday 13th
I will take some pictures of the process if possible and update with a review of gain and fuel economy,
Sadly then that will be the end of a three year project on the focus,
I will still work on the smoothing of the rear door handles and perhaps a set of aluminium pedal covers but that's all.
There's not much point in taking it further in terms of performance,
I use the focus as a family car and daily driver,
There is room for improvement to bring performance up to 150bhp by fitting a hybrid turbo and bigger intercooler with a K&N57s induction kit too.
But this performance from a 1.6TDCi is uncharted territory in terms of reliability.
The results would demand a upgraded clutch, 4 pot brakes and possibly having the gear box pinned and toothed with steel to prevent shredding.
Potentially 8,000euro to have a 100% reliable safe 150bhp 1.6TDCi
Not worth it in my opinion,
And to be honest it has been super fun creating all the guides and feeling the new found performance of remap, egr blank, lowering and increased handling, it has come a long way and I've enjoyed every day of it, you guys have been great supporters throughout the build and in my mind we were out there doing the mods togeather.
The focus 1.6TDCi ticks all the box's for me except for 2
1. It doesn't sound like a performance car, even with a 2.5" piper duplex it grumbles
2. It doesn't exit corners with as much acceleration as I would quite like
Now number 1 can't be helped,
But number 2 I'm guessing if it was a 2.0tdci then I'd probably have a better response, but lowered on eibachs makes handling fantastic hot knife through butter and on 18" Avon ZZ3 sticks to the corners like its abseiling on a rope.
Diesel tuning has been super fun,
But my attention now is on a petrol motor,
Not any old petrol motor,
But a Japanese imported Toyota Corolla Levin BZR AE-111 Coupé
The engine is developed much like ford used to do there sports model escorts
The same engine in the sports car as the road car.
The engine in the Levin is a 1.6 naturally aspirated non turbo
However it was developed by Toyota in partnership with Yamaha as a racing spec engine,
As result its a 178bhp twin-cam 20valve engine which has 4 throttle body's as standard with a 6 speed gear box.
The engine was first built in the mid 80's for drifting competition where it was turbo and supercharged in the Toyota Levin AE-86
The exact same engine was re-released in 1995 when Toyota built the FWD Levin AE-101
Followed by the FWD AE-111 released in 1998 and last built in 2000
Throttle body's are like little trumpets and suck in the air directly from the surrounding atmosphere, no closed induction box or force feed induction, each individual cylinder pulls in its air via the velocity stack trumpet.
This method mixed with a twin-cam petrol engine makes a fantastic engine sound,
And fitted with a 2.5" exhaust system with formation 4-2-1 piping from manifold will make a fantastic smooth low rev sound with a raspy high rev red lining at 9,000rpm when changing down gears going in to tight bends and again when opening up on the exits
Will sound sweet, and ticks the two box's the focus diesel doesn't,
So my new project will be a 1998 upwards white Toyota Corolla Levin BZR
Purchasing in December or early 2014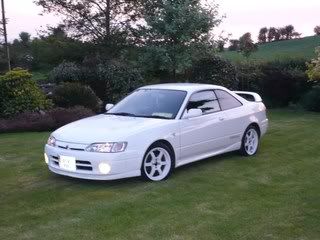 I plan to keep the focus as the reliable family car which will be used for long journeys etc.
But the Levin will be used to take me to work and the occasional trip in the country,
I will re do some mods on the Levin same as the focus so as there is no loss of driving comforts,
Aux port,
Dual cree reverse,
Mist washer jets,
Foot well lighting,
Illuminated ignition ring,
And some Osram bulbs
Once purchased I will create a build thread called "snagglepuss the story begins" on the AE-111 forum and I'll add a link on here for you guys to view,
Since I will still be a focus owner I will remain on here with you guys sharing my guides and learning from others,
Hopefully some of you can help me along with my new project too.