Update:
Very busy few weeks coming up to CausewayCoast Ford Fair on 02nd June,
I've entered the focus in to the show this year, I initally thought I was purchasing an admission ticket to view the ford fair show, but later realised that I've actually entered the car in to be part of the show lol shir why not...
I've a few things to get done before then though.
Lots of self pressure 6 days off work and 4 pay days left before the show.
Car progress is as follows:
RS led rear light units are on the way from european-parts Germany after 3 weeks waiting list for ford to supply the part; given next Monday is a bank holiday I'm expecting delivery on Tuesday/Wednesday of next week.
Lowering is happening next Thursday 09th May,
fitting the eibach pro kit with adjustable rear camber; Drops Front 20mm & Rear 30mm
Vinyl Ford "GT style" side strips on the way from DMB in Metalic Grey
Should look like this but different colours: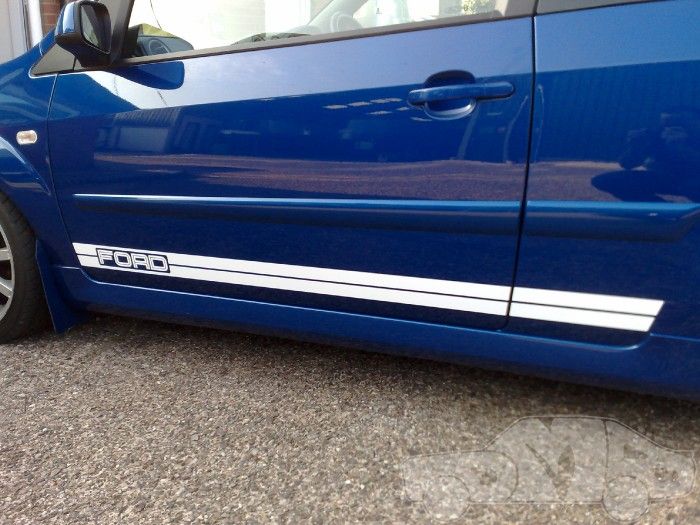 Once the stripes arrive; I'll contact my local window tint place and have them fitted to the car aswell as 30% front windows (except windscreen) and 35% rear windows,
Purchased a 250ml tin of "Hammerite Smooth Silver" to re-do the rear drum brakes as they are s bit faded, (almost 3 years since painted last)
Also gotta touch up the tip of the front splitter as its scuffed,
I may leave this job until the final 24hrs encase it happens again lol
This will be a tight schedule, I'm off work next thursday and Friday to get it serviced and lowerd, hopfully get the drums painted then too, but I'm back in work Saturday and working 6 day weeks until the day of show on 02nd June.
As result I can't gurantee every Sunday will be dry and sunny for waxing the car, and i dont have a garage or Gazebo to cover the car so I've booked it in for a wax in the local valleting centre on the 1st June prior to making the 242mile trip from home to Causeway Coast.
Hopfully I don't get too excited and land the car in the wrong field between here and there lol
I'll keep the thread updated with progress along the coming weeks.