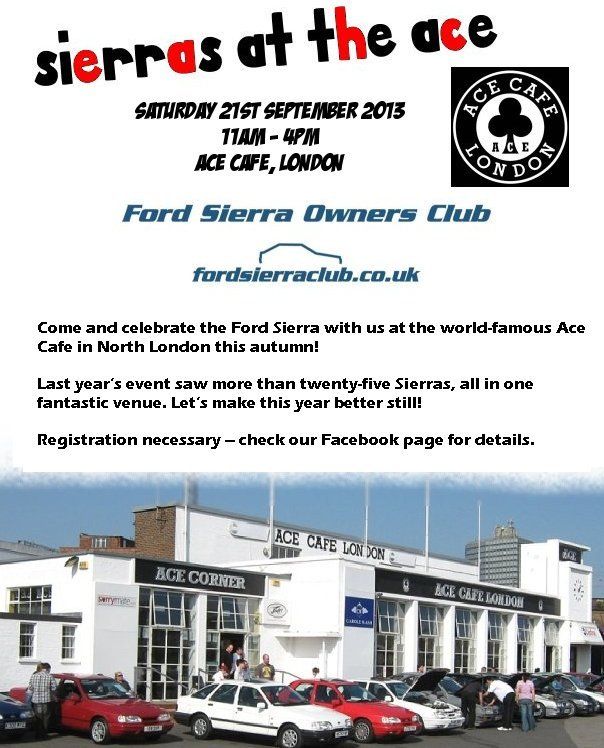 What's this, then?
Sierras at the Ace began last year as a celebration of the Sierra's 30th Birthday, and we received such good feedback that we decided to party again this year! It's a Sierra-only meeting at a fantastic and friendly venue, so come on down and join us.


Where is it?
Ace Cafe London in North London. The address is Ace Corner, North Circular Rd, London, Stonebridge NW10 7UD.
https://maps.google....ed=0CKcBEPwSMBE


When is it?
Saturday 21st September 2013, starting at 11am and finishing at 4pm.


Why attend?
If you've never been to the Ace Cafe before, you really should. It's a famous and historic venue and has been hosting car and bike meets for years. They serve great food and you can even buy merchandise to commemorate your visit. Sierras at the Ace is the only national Sierra-only event in the UK and brings together Sierras from all car clubs, not just the FSOC, so it's great for a meet-up as well. We will be selling commemorative stickers on the day, too.


Ok, I'm convinced. How much is it?
The best part is: it's free!


How do I register?
If you want to bring your Sierra onto the car-park, you must register by letting me (TwoBlueDoors, aka Shosh) know your registration number in advance. Otherwise, there is plenty of space on the road outside and you won't have to register, just turn up on the day.


Can I bring my own food?
The answer is NO, sorry. The Ace Cafe lets us enjoy their hospitality for free, and they sell great food and drinks. We respectfully request that you do not bring your own food or drink into the venue - you may be asked to leave.


No problem. Any other rules?
Yes, it goes without saying that the Ace Cafe have a zero tolerance policy on irresponsible driving and behaviour, as does the FSOC. Drifting, excessive noise, wheelspinning etc disturb the neighbours and damage the reputation of both the Cafe and the club, so will NOT be tolerated. The police will be called if anything stupid goes down.


When is the closing date for booking?
We will accept bookings for Sierras at the Ace 2013 until Wednesday 18th September.


Any questions I haven't answered? Just ask!


Hope to see you there!