Hi all,
Well back in 2010 I was caught in a divide between purchasing a ford focus or a Toyota Corolla Levin BZR,
I joined foc and AE111 forum,
As you can see I bought the focus,
I now have space in the drive way for another car,
My focus is in the final stages of completion and my hands are becoming idle,
I still love the Toyota Levin,
And its quite an unusual setup inside which makes it fun to work on,
They finished making them in 2000 so I'd be purchasing from 1997-2000
They are a Japanese import never actually sold in Europe from dealers
The engine is a 20 valve twin can 1.6 petrol with velocity stacks as standard.
There are two models of engine BZG and BZR both engines are 1.6N/A petrol
The BZR is a 6 speed fwd with 187bhp as standard.
Their are two models Trueno and Levin
Both are identical except for the front bumper and both released at the same time, in Japanese Trueno means thunder and Levin means lightening
They were released in 5 colours
Electric blue
Charcoal grey
White
Black
Dark green,
Both models are 2 door coupé but due to their full name "Toyota corolla Levin" some insurance company's view it as a corolla which leaves the insurance cheap.
I've not saved the money up yet,
But id like a blue one I've saw this one
http://cars.donedeal...a-levin/5589541
The focus would then be driven daily by Vicki and the Levin would be my car for work,
But what do you guys reckon,
Should I purchase a Levin
Or
Should I get serious and purchase something more erm domestically pleasant.
If I purchased the blue Levin I'd lower it and fit a set of white 17" volk rays TE37's aswell as a 3" cat back exhaust.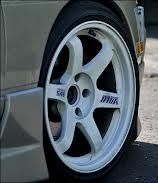 But what do you guys think?
I'm 28
Father of two
Should I purchase something more common and subtle?
Am I too old?