to all who need to recover killed adapter
This manual was made by Ittrium, very clever Russian programmer and my friend. He is developing future ELM327-compatible adapter ELS27 and software. It is double bus and has up to 2000000 speed.

Original link to Russian ffclub.ru http://ffclub.ru/top...1#entry14307151

ELM327 based adapter consists of two main parts: the controller and bridge ELM327 UART-USB, which enables it to communicate with the controller. The bridge can be of several types:
1. FT232RL (the best and most stable version)
2. PL-2303 and other Chinese counterparts
3. Bluetooth module

If the ELM327 will be stored at the speed rate on that the bridge can not work, you will get a brick instead of the adapter. But as a rule it is not lost.
The controller ELM327 is the original Canadian (very rare) or a Chinese clone. Chinese clones are further divided into those that are made on the same chip as the original (PIC18F2480) and others made ​​with other PICs
In fact the Chinese are made on firmware-based Canadian datasheet. Good clones are fully compatible with the original ELM327.
In the original ELM327 provides two recovery options adapter speed:
1. Reset all user settings
2. Forcing 9600
On this basis a recovery algorithm is written:

To restore wired adapters:

1. Check what chip is built adapter with. As for me, I met two types. If you have a PIC18F2480, then go to step 2. If you have a PIC18F25K80, then go to step 3.
2. Solder the wire from pin 6 of the controller to any ground terminal of the PCB.

This will cause the adapter force to work at 9600, ignoring what is written in its memory.

After that connect adapter to car and to computer. Connection should be done at 9600 and changed the adapter's speed to default using the same ElmConfig, either through the terminal software(if you know how).

Then turning adapter off, unsoldering wire. Connecting again, checking the speed just stored.
This paragraph is not suitable for PIC18F25K80, because there is no pin, similar to pin 6 at PIC18F2480.The Chinese could hang this function to some other leg, but it is not possible found this.

If this did not help go to step 3

3. Solder a wire from pin 28 of controller to any ground terminal on the board. This will cause the adapter to restore default settings. Then, plug the adapter into the car and the computer. To be sure wait for 15 seconds. Turning off, unsoldering wire. Then plug, check 9600, 38400 and 115200. Typically the default speed 38400 will be set.
Sample picture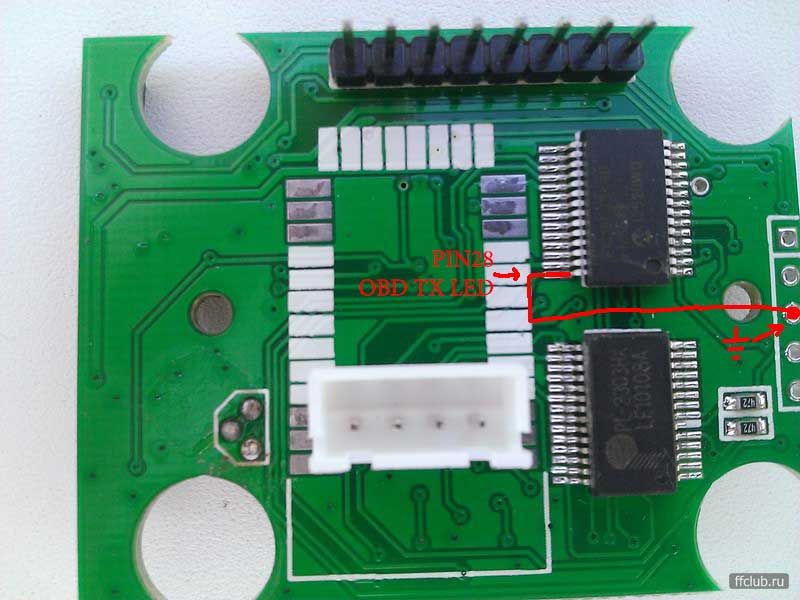 If that did not help, then go to step 4

4. Difficult. Unsolder chip PL2303 (or equivalent). RX/TX pins may only be lifted but not the whole chip to blow off. Solder PIC's RX/TX pins to USB-UART cable based on FTDI. Connecting, restoring speed. Turning off, unsoldering, returning PL2303 to it's place.

If this part is not feasible or does not help, go to step 5
5. Throw out the adapter, buy next one.

If this part is not feasible, go to step 6.

6. All the ashes! Sell ​​the car.

For the bluetooth adapter you can try step 3, or remake it to the wired adapter and restore speed similar to Step 4.
This manual is suitable for the following packages only: 28-Pin SPDIP, SOIC, DIP. For other packages it is necessary to seek the appropriate pins in the datasheet. For example in the package TQFP-44 6th pin just goes to power..