With the combination of further lockdowns and the colder winter months creeping in, the chances are that your car might be feeling a bit under the weather right now
Rather than get caught out, here are some straightforward checks and simple DIY fixes brought to you by Halfords that you can do to make sure that your vehicle starts when you need it to (and is mechanically safe and sound when it does).

Check your battery
Car batteries can fail for several reasons, but two of the most common are lack of use and cold weather. Your car's probably spent most of the last month on your drive, only leaving for the odd essential trip, and that's not enough to keep your battery alive. (It can actually take at least 30 minutes of driving to charge a battery, depending on the vehicle and battery age.) Add in the fact that cold weather can make battery charging slower and it's a good idea to put checking your battery at the top of your list.


 If your car refuses to start, then you've got a couple of options. You could try a car battery charger, which plugs into the mains and should kick-start your battery if there's any residual charge within it. If your battery has completely run out of charge then you'll need either a jump starter pack or a set of jump leads and a donor car (preferably from your own household). Before trying either, make sure to have a look at our how to jump start a car guide for some essential safety advice.
 
If none of these options work or you'd prefer to get some expert advice, then one of our technicians can come directly to your home to fix your battery quickly and safely thanks to our contactless mobile garage service. Simply book an appointment online, choose a time slot, and enjoy a safe and convenient service. To find out more, have a look at our article on how our mobile technicians are bringing safe services to you.
Our mobile technicians can also dispose of and recycle your old battery (you can't put batteries into your normal household or recycling bin due to the chemicals inside them). Alternatively, you can drop your old battery into any of our stores and we'll send it for recycling on your behalf. For more information about this, see our guide to battery disposal and recycling.
Even if your car battery is working well, it's worth giving it a once-over. Check that all connectors are in place securely and are in good condition, and look for any fluid leakages. These are danger signs that could suggest your battery or terminals may need replacing before they let you down.

Check your tyres
All of your tyres should be in a good condition and undamaged, so start by checking these for any cuts, splits or nicks. Get up close and personal to look for any glass, nails or screws that may have become embedded within your tyres and could cause a puncture in the future. And don't forget to check your spare tyre as well – the last thing you want is for your spare to be out of commission when you really need it.
Next, check the depth of tread on each tyre. Legally your tyres should have 1.6mm of continuous tread, but this can be tricky to check with eyes alone. The simplest solution is the 20p check, where you place the coin in the main tread channel at various points around your tyre. If you can see the outer band of the coin face at any point then your tyre tread is too narrow.
 
However, this only gives you a rough guide to your tread depth and so we'd recommend using a tyre depth gauge instead or taking advantage of our Free Tyre Check at any Halfords autocentre if you want a second opinion.
Underinflated and overinflated tyres can affect handling, so you should check they're pumped up properly. If your tyre pressure is worryingly low, you'll see the tell-tale bulge in your tyre. To be a little more scientific, a tyre pressure gauge will give you an accurate pressure reading.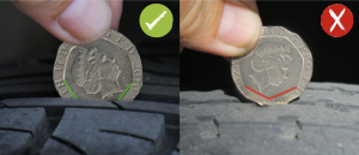 Inflating your tyres is a job we can all do. If you're unsure about the correct tyre pressures for your vehicle, then you can find them in the vehicle handbook.
If you have a flat tyre, then you could try an inflation kit (just make sure that it's still in date before you start using it). Our mobile garage service can also help with flat tyres.


Check your windscreen
Your windscreen is your window to the world, so it's really important to regularly check the condition of your front and rear windscreen wipers. If they're failing, you'll notice smears on your windscreen often accompanied by a painful squeaking noise.
If your wipers are on the way out, replace them sooner rather than later. Fitting Wiper Blades is a simple job that you can do with a handful of standard tools or that our expert colleagues can do for you.
It's also important to regularly check your windscreen for any chips. While they may appear minor, small chips can quickly turn into big cracks, making driving anywhere dangerous. Windscreen chip repairs is something that our mobile garage service will be happy to help with.

Check your fluids
The oil and coolant in your vehicle play a crucial job in keeping your car running smoothly. Checking and topping up your engine oil is quick and straightforward. Your coolant fluid is stored in a clear overflow plastic container located near the radiator and there's an indicator on it that will show you if there's enough in there.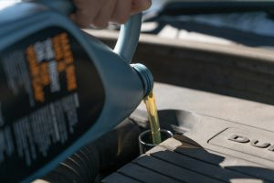 If you'd like a helping hand, then our mobile garage service or colleagues at our stores and autocentres can top up your oil for a small fee. They can also support with topping up power steering fluid and brake fluid, which are specialist jobs that we'd recommend leaving to the professionals.
One final check that you can easily do yourself is the windscreen washer fluid reserve. It's located close to the top of the engine bay and is clearly marked in most cars with a windscreen wiper icon. If it's running low, top it up as soon as you can – particularly because it's actually illegal to have an empty windscreen washer reservoir!

Check your bulbs
All of the lights in your car should work and operate correctly. It's easy to check them; simply switch on all of your lights and walk around your vehicle a couple of times. Any that aren't working as they will need replacement bulbs.
Our Car Bulb Buyer's Guide includes all the information you need to help you select the best bulbs for your needs. We can also fit the bulbs for you at our stores or autocentres for a small fee.

 
The last several months have been challenging, but if you've followed our advice and completed all the checks then you can be confident in the knowledge that your car will be ready and waiting when you need it.
For even greater peace of mind, why not take advantage of our 10-Point Winter Car Health Check? Our expert colleagues will check your battery, tyres, oil levels, windscreen, Wiper Blades, headlights and more. The whole process only takes about 30 minutes and our safety procedures in-store and at our autocentres mean that you and our colleagues will remain safe at all times